It may come as a shock to some people to know that men tend to take as much pride in their appearance, including their hairstyle, as many women. While long hair on a man was once taboo in the US, it is now quite common. There are several different ways for men to wear longer hair and still look nice.
A man who is a professional can wear his hair at about shoulder length and maintain it in a nice clean style that is acceptable to most as being appropriate. The professional style is cut to the shape of the face so that the eyes are visible without any hint of hiding behind the hair.
Popular Long Hairstyles for Men
One very popular long style for men is the simple long and straight look. The hair may be worn at any length from the shoulders down and requires a relative minimum of brushing or combing throughout the day. Many women believe this style makes a man look more sexy.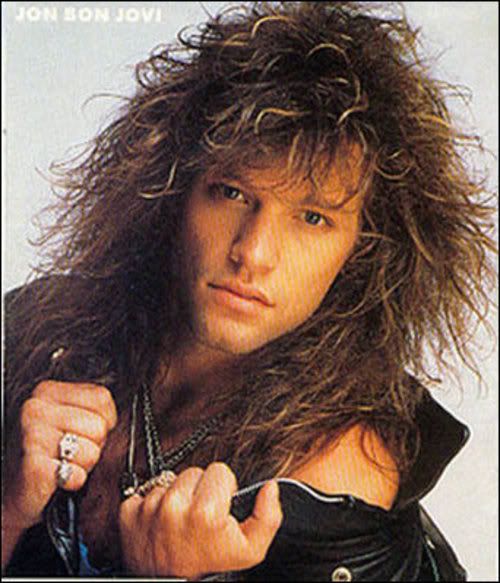 Jon Bon Jovi rock star hairstyle.
Another style made popular by rock musicians is wearing the hair at or longer than shoulder length and allowing a portion of it to hide the face, especially the eyes. This style gives a certain sense of rebelliousness and mystery to the man's appearance. A similar style that is parted in the middle to leave the eyes uncovered is attributed more to country musicians.
Shoulder length hair that is parted in the middle or on one side and layered to allow its natural waves and curl to show may be the most common longer hair style for men at the present time. This style is mostly worn by younger men in their twenties and early thirties.
The texture of long hair identical with straight hair, shine, & old. They (but not very long styles & depend on the style) are correct for faces with
oval
,
heart
, &
round shape
. If you have an
oblong face shape
, avoid wear long hairstyle which has straight styles down without bangs. It will elongate your face.
Hairstyle Pictures for Long Hair
Below are examples of long hairstyles for men:
Long Hairstyle Tips
How to Make Hair Grow Faster
Here are some fantastic tips in making your hair grow faster.


How to Style Long Hair
Most people consider hair below the ear to be long for a man, but many men wear their hair longer than this. Women have more choices when it comes to styling long hair but there are still many for men to choose from that will give them a stylish look. If you are wondering how to style long hair, here are some common ways to get stylish looks.