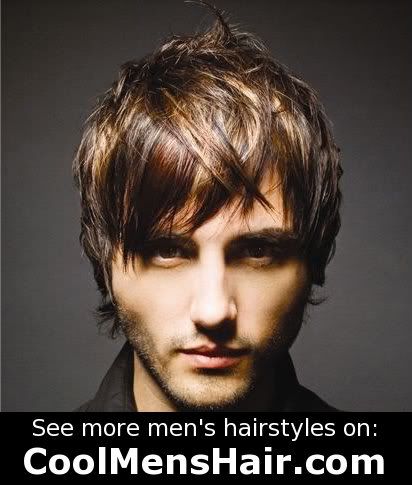 Mario Lopez Casual shag haircut
One of the hottest hairstyles today is a sort of sassy, mussed look that contains a lot of layers and texture. This texture is put in by the way the hair is cut in layers, with successive layers getting shorter as they approach the crown of the head. This hairstyle is known as a
shag haircut
. Here, we will take a look at how to cut a shag.
First, a shag can be cut with any length of hair; short, medium, or long. Different lengths work with different shapes of faces and features. A stylist can recommend the best length for one's features. Cutting the shag can be a time consuming process. The hair near the crown of the head is cut relatively short. The rest of the hair is cut in layers around the crown that increase in length as we move away from the crown.
Some of the shorter hair at the top may stand up, which is part what makes this style so sassy. Bangs can be left in or cut out, depending on the desires of the individual. With longer shag haircuts, bangs can be feathered back with a pair of scissors to make them easier to keep out of the face.
Many stylists will cut the hair to almost the length that is desired in each layer. Then, they will
razor cut
the ends. This method adds texture and lift to the hair cut and makes it look thicker than it really is.
There are some who say that a person can cut their own hair in a shag. The instructions are pretty simple and straight forward, but one would be well advised to have a trip to the stylist scheduled in and another hairstyle in mind should something go amiss.
To cut one's hair in a shag, he must have it grown out pretty long. Then, he must turn the head upside down so that all the hair hangs toward the floor. Pulling the hair together into a ponytail, right at the top of the head, cut the hair in a straight line across with a pair of scissors. Brush the hair back down as normal and there is the shag.